The Sturts Geocache Trail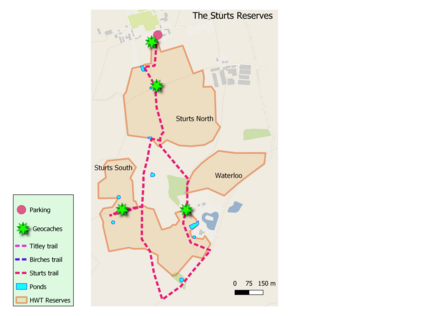 The Sturts Nature Reserve is a Herefordshire Wildlife Trust Reserve just off the A4112 west of Kinnersley. The reserve is signposted and is reached along the narrow Ailey Lane. Pass through the gate to a small grassy parking area.
The area is made up of three reserves, shown on the map in green. The trails takes you along public footpaths between the reserves.
During the last Ice Age this area would have been covered by a large glacial lake which is why you won't find the hummocky moraine typical of Ice Age Ponds.
However, one of the ponds is a 'classic' Ice Age Pond. And it clearly shows many of the key features of an Ice Age Pond.
In one of the fields you will find no ponds but if you look carefully you can see some depressions in the ground. These may be the sight of old ponds that have been filled in, these are known as 'ghost ponds'