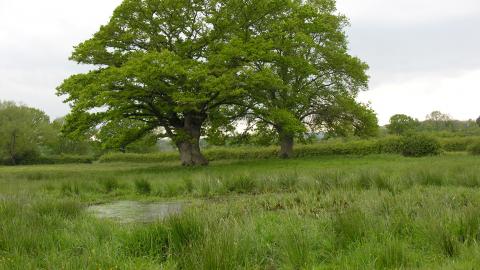 Seven differing fields lying in the River Wye flood plain
Know before you go
Grazing animals
Livestock are usually present between May and November
Walking trails
Please avoid trampling the vegetation in the wet areas, and use the bridges to cross streams and ditches. Conditions underfoot can be wet even in summer so boots are advised.
Access
There is no wheelchair access at this reserve.
When to visit
Opening times
Open at all times
Best time to visit
All year round - but are subject to regular winter flooding
About the reserve
  Lying in the River Wye flood-plain, the seven fields that make up Sturts North are subject to regular winter flooding. The grassland communities in Wet Meadow and Sheep Colt Meadow are particularly noteworthy, with damp hollows and drier ridges forming a mosaic, each with their own micro-habitat and species. Mire and swamp communities occur in the most low-lying sections of Lane Meadow, Far Pole Moor, Long Meadow and Wet Meadow.
Environmental designation
Site of Special Scientific Interest (SSSI)