Artist-in-Residence, Richard Bavin
Richard Bavin is a contemporary artist exploring light, weather and mood in the landscapes of Herefordshire. His passion for trees and woodland is the focus for many of his drawings and paintings.
Current Residency:
The North Wood at Queenswood, Bodenham Lake and Birches Farm Nature Reserves
Richard is currently spending time at these three, very different nature reserves - and creating some beautiful work! He will also be running a series of workshops in 2019 as part of his current residency.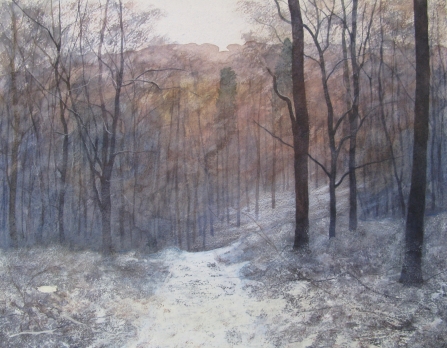 A Year in Lea & Paget's Wood
Throughout 2016, Richard was our Artist in Residence in Lea & Paget's Wood an ancient broadleaved woodland in the Wye valley which is owned by Herefordshire Wildlife Trust. He worked in the wood for 2-3 days each month and developed these studies into a series of drawings and paintings in his studio. This residency culminated in a solo exhibition at the Apple Store Gallery in Hereford. applestoregallery.com
Richard says about his work:
"Trees have always filled me with joy and wonder and I can be absorbed for hours in simply looking. Every tree, great or small, has its own character and presence, and walking in woodland is a deeply restorative pleasure in any weather.
Most of my drawings and paintings depict specific trees and woodland in Herefordshire. My starting point is always to spend time walking or sitting quietly with sketchbook and camera amid the mud, wind, birds and midges. The act of drawing intensifies the experience and I feel fully alive! Patience and perseverance are rewarded by extraordinary moments when a scene is made astonishingly beautiful by some shift of light or weather. In the studio I distill these encounters and records into paintings, aiming to share what I have seen and felt as faithfully as possible with the viewer.
It breaks my heart to see how rapidly Britain's trees and woodland are succumbing to development and the ravages of pollution and disease, and I am involved in campaigning locally and nationally. But in my practice as an artist I choose to go on making paintings which delight in the myriad ways in which trees enrich our world and ourselves. At the end of my life I hope that my work will not be a eulogy for what we have lost but a celebration."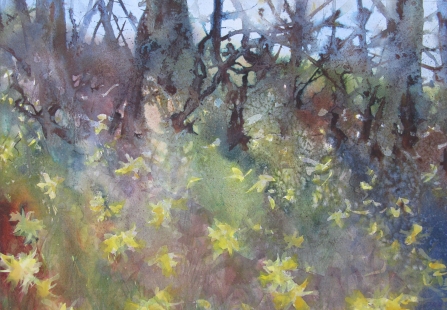 Heart of the Wood
During h.Art 2016, Richard led a public art event to create a 4 metre wide canvas, Heart of the Wood, depicting Lea and Paget's Wood in summer. The painting features a magnificent oak pollard which is gradually hollowing out and shrinking down as it ages.
102 people aged 3 to mid 80s and an enthusiastic dog helped to create the painting, if you look carefully you can find a paw print and several boot prints! The canvas was laid on the ground and built up in layers of semi-transparent paint which means that every person's contribution is there. Richard has then unified the image by applying glazes of thin colour and touches of detail.
Proceeds from the sale of the painting will be donated to Herefordshire Wildlife Trust.