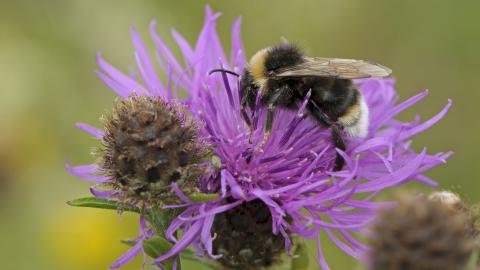 Wet rough grassland fields subject to winter flooding
Know before you go
Walking trails
Can be accessed either from the lane, or by a field gate part way along the dividing hedge. Conditions underfoot can be wet even in summer, especially so around the ponds, so boots are advised.
Access
Please contact us in regards to wheelchair accessibility. 
When to visit
Opening times
Open at all times
Best time to visit
April to August
About the reserve
The Sturts (East) reserve comprises six fields. Two of them, Waterloo and Smith's Meadow, are wet, rough grassland fields, separated by an old hedge. Both fields are subject to winter flooding, and the repeated silt deposition has built up a rich deep, moisture retentive soil. Ragged robin, marsh bedstraw, lesser spearwort and three species of juncus rush are found in the hollows and ditches, whilst plants such as common knapweed, devil's-bit scabious, pignut, meadow vetchling and cuckooflower occur on the areas of drier grassland. A series of permanent and seasonal ponds across the reserve support a range of aquatic invertebrates, including several rare beetles. An interesting and notable variety of water plants flourish in and around the ponds, such as water-dropwort, water starwort, greater spearwort and the rare orange foxtail grass.
Contact us
Herefordshire Wildlife Trust
Environmental designation
Site of Special Scientific Interest (SSSI)