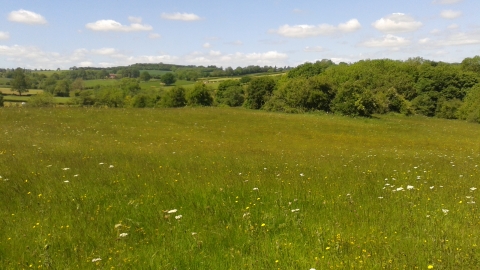 Grassland area with a very rich flora, including a number of orchids
Know before you go
Parking information
Limited parking for one or two cars at entrance.
Walking trails
As the reserve is managed as a hay meadow, please only walk around the edge of the field while the hay is growing and keep dogs under control. The field gate must be kept closed at all times. Please also do not enter the roped-off area where orchids are being studied
Access
There is no wheelchair access on this reserve.
When to visit
Opening times
Open at all times
Best time to visit
April to August
About the reserve
  The name "Stocking" indicates that what is now a field was once woodland cleared for agriculture long ago, leaving the land covered with "stocks" or tree stumps. Large old hedges border the meadow on two sides (north and west) and contain a variety of shrubby species. Bramble thickets adjacent to these hedges provide breeding sites for blackcap, garden warbler and long-tailed tit in season. The meadow has a very rich flora. Numbers of common spotted and heath spotted orchids occur here in close proximity, their species integrity presumably maintained by differences in microhabitat and reproduction, although some hybrids do occur.  
Contact us
Herefordshire Wildlife Trust