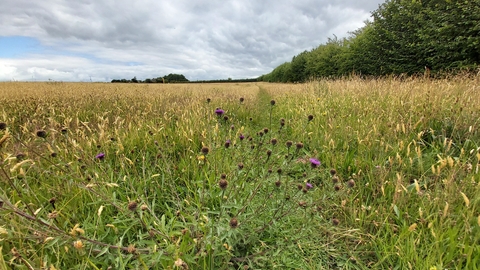 Semi-improved neutral grassland
Know before you go
Parking information
There is a small car park, with room for 2-3 cars, just inside the main entrance gate, off the B4203 immediately adjacent to Pine Tree Cottages
Access
Access around this small reserve is straightforward but please keep to the edge of the field while the hay is growing and keep any dogs on a lead or under close control.
When entering or leaving the reserve, please be aware of fast moving traffic on the B4203 as visibility is restricted,
When to visit
Opening times
Dawn until dusk.
Best time to visit
May and June for meadow flora and insects; October for waxcap fungi
About the reserve
The reserve consists of a single field with a westerly aspect.  Its exposed high position provides fine views over the surrounding hilly landscape.  Clay soils underlie the semi improved grassland.  Although the field has not been ploughed as far as is known, artificial fertiliser dressings have been applied in the past and have clearly had an impact on the flora of the field.  The remnants of the original flora can be seen on the eastern edge of the field along with a swath approximately 3 metres wide adjacent to the roadside boundary edge. 
Here the more diverse flora supports:
common knapweed
bird's foot trefoil
meadow vetchling
crosswort
Yellow oat grass has also been recorded here.  At present the remainder of the field comprises:
Yorkshire fog
common bent
sweet vernal
perennial rye grasses
common sorrel
white clover
meadow buttercup.
The reserve boundaries are tightly trimmed hedgerows which hold at least 8 different tree species including :
field maple
blackthorn
guelder rose
holly
as well as climbing plants:
ivy
honeysuckle
field rose
The hedges provide habitat for small mammals and nesting sites for the occasional pair of yellowhammers,
In mid summer look for typical meadow butterflies like meadow brown, ringlet and gatekeeper as well as the 6 spot burnet moths taking nectar from the common knapweed flowers.
In autumn, this site is fantastic for waxcap fungi.
Habitat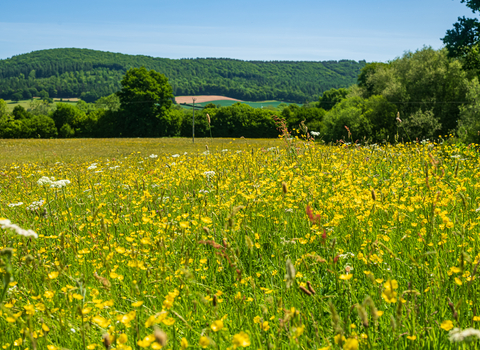 Join today and receive a free Nature Reserves guide
When you join us as a member of Herefordshire Wildlife Trust you will receive our Herefordshire Nature Reserves Guide with full details of all our nature reserves including maps and species of interest.
Join today!