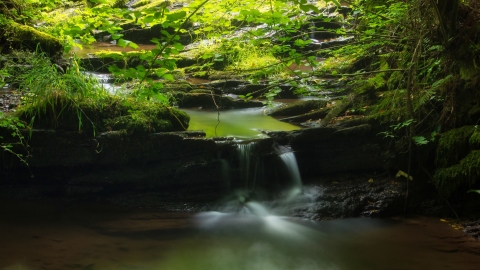 A wooded reserve showing the results of different management histories within an area.
Location
Know before you go
Walking trails
There is a clearly defined circular route running around the reserve. In winter or during prolonged wet weather, some lower parts of the reserve become extremely muddy and difficult to negotiate. Boardwalks have been installed on some sections to alleviate this. There are several flights of steps running up the steep valley sides.
Access
Paths around this reserve are narrow and sometimes steep. The paths are not suitable for those with limited mobility and there is no access for mobility scooters or wheelchairs.
When to visit
Opening times
Dawn to dusk
Best time to visit
When it's not too muddy!
About the reserve
  Brilley Green Dingle is all wooded. The western and eastern sides have different management histories and this is reflected in the ground vegetation today, with the western end being much richer in flora. An interesting and very noticeable vertical zonation in the flora of the Dingle can be seen. Millhalf Brook runs through the reserve and is home to a number of interesting invertebrates, such as the increasingly threatened white-clawed crayfish.    
Contact us
Herefordshire Wildlife Trust
Directions:
Travelling west on the A438, after passing through the village of Winforton, take the right-hand turn signposted to Brilley and Michaelchurch-on-Arrow. Follow this road, over a cross road and a little further on uphill and you will spot a footpath sign on the left-hand side of the road. There is room for one car to stop here. Follow the footpath sign between the hedges and you will see the Reserve sign on the gate at the end. Alternatively, drive a little further and take a left turn which will take you to the 'main' entrance where there is space for a couple of cars. (The map in the Trust's Reserves Guide is pretty good.)