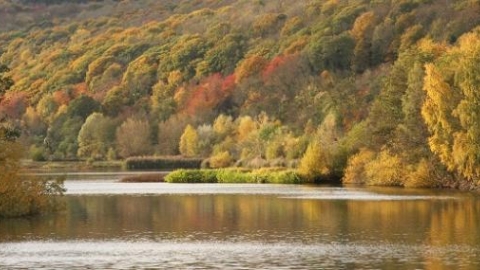 Bodenham Lake is an important overwintering and breeding area for birds and other aquatic wildlife, so approximately half of the site is managed as a wildlife refuge with restricted public access. More than 160 species of birds have been recorded at this important site.
Know before you go
Walking trails
You can picnic and stroll through beautiful orchards as well as river and lakeside meadows.
Access
There are 2 easy access paths around part of the lake, both originating from the car park.
When to visit
Opening times
7.00am - 9.00pm
Best time to visit
All year
About the reserve
  Until the 1920s, when the site was used for gravel extraction, the land was part of Lady Close Farm. When gravel extraction came to an end, the pits were linked together, resulting in the lake. Leominster District Council purchased the land in 1994 to safeguard the site for informal recreation and conservation. Up until March 2016, the site was managed and maintained by Herefordshire Council's Parks, Countryside and Leisure Development service, before being taken over by the Herefordshire Wildlife Trust and New Leaf Community Interest Company. The River Lugg borders part of the reserve, with the combination of the river and lake making it a good place to see otters (especially at dawn and dusk). There are also 2 beautiful orchards, as well as lakeside meadows. Further information about Bodenham Lake can be found on our dedicated webpage for Queenswood Country Park and Bodenham Lake. Bodenham Lake is part of the Lower Lugg Valley Living Landscape - click here for more information.