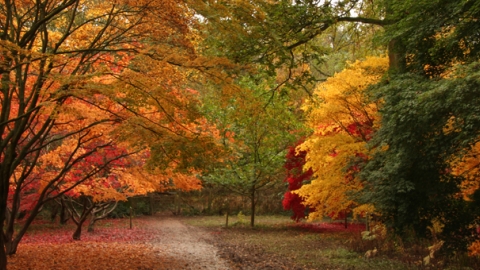 Queenswood Country Park and Arboretum
Once part of the vast ancient oak wood that once stretched to the Welsh borders and beyond, today Queenswood Country Park and Arboretum comprises 123 acres of ancient native woodland, designated as a Site of Special Scientific Interest (SSSI) surrounding a 47 acre tree collection with over 1,200 rare and exotic trees from all over the world.
Location
Know before you go
Parking information
There is a pay and display car park on site; parking costs up to £4 per day.
Bicycle parking
Bicycle racks available
Walking trails
In addition to the many paths for more intrepid explorers, there are a number of waymarked trails of differing lengths at Queenswood. Some of them feature easy access stone or woodchip surfaced paths which are suitable for disabled access. A comprehensive map and trail guide is available to purchase from the Cafe.
Access
There are a number of surfaced, easy access paths joined together into a waymarked trail, for those using electric mobility vehicles (EMVs). The car park includes disabled parking spaces.
When to visit
Opening times
The site is open every day from dawn to dusk.
The Visitor Centre is open daily from 10.30 am to 3.30 pm Monday to Friday and 10am to 4pm on Saturdays and Sundays.
Best time to visit
All year round
About the reserve
Queenswood is managed by Herefordshire Wildlife Trust in partnership with New Leaf Sustainable Development. The Arboretum is famed for both spring blossom and autumn colour while the surrounding, SSSI ancient woodland offers walks through acres of wildlife-rich habitat. The site also offers a woodland playground, Gruffalo Trail, Visitor Centre and Shop and a popular, family-run cafe.
Queenswood is a fragment of the vast ancient oak wood that once stretched to the Welsh borders and beyond. It was held by the crown on and off throughout the ages and changed its name from 'Kings Wood' to 'Queenswood' in the reign of Queen Elizabeth I.
The woodland is now managed as a nature reserve and its ecological importance recognised by its designation as a SSSI (Site of Special Scientific Interest). More than 190 plant species have been recorded; this is high for a Herefordshire woodland and includes scarce species such as wood vetch and birds nest orchid. Nationally rare dormice are found in the North and South Woods and Queenswood takes part in a national monitoring scheme to help protect these endangered creatures. Other interesting mammals include, polecat and yellow-necked mice, whilst fallow and muntjac deer inhabit the woodlands.
Woodland birds include great spotted, lesser spotted and green woodpeckers, willow, garden and wood warblers, chiffchaffs and blackcaps. Butterflies found at Queenswood include the silverwashed fritillary and purple hairstreak which both thrive in the oak woodlands. Other insects include deadwood loving beetles such as the nationally scarce oak splendour beetle.
Further information about Queenswood can be found on our dedicated website for Queenswood Country Park and Bodenham Lake: www.queenswoodandbodenhamlake.org
Environmental designation
Site of Special Scientific Interest (SSSI)