About the Lower Lugg Valley
The River Lugg is designated a Site of Specific Scientific Interest (SSSI), and a Special Area of Conservation (SAC) in its lower stretches, because of its conservation value. The River supports a range of wildlife including otter (Lutra lutra), Atlantic salmon (Salmo salar), brook lamprey (Lampetra planeri), river lamprey (Lampetra fluviatilis) and water crowfoot (Ranunculus sp.). Furthermore, within the flood plain are the Lugg Meadows Sites of Special Scientific Interest (SSSI), nationally important floodplain meadows managed by Herefordshire Wildlife Trust and Plantlife.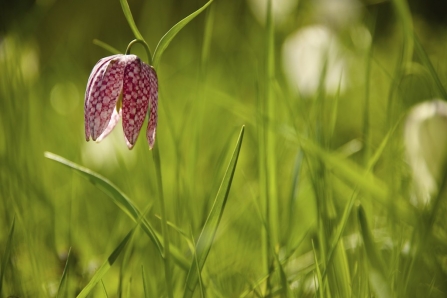 Snake's head fritillary on the Lugg Meadows Sites of Special Scientific Interest (SSSI) (Evan Bowen-Jones)
The project area includes the section of the River Lugg and its floodplain between Leominster and the confluence with the River Wye. Within the Lugg Living Landscape are over 15 Lakes formed by gravel extraction, resulting in the highest density of water bodies in the county. Lakes such as Bodenham (managed by Herefordshire Wildlife Trust and New Leaf Sustainable Development in partnership) form crucial resting sites for wintering and migratory wildfowl and breeding otter.
Unfortunately, wildlife in the River Lugg is suffering from fragmented habitats and unfavourable pollution levels. High phosphate levels are causing eutrophication, a peak in algal blooms, which reduces water oxygen content. Modelling for the River Wye Nutrient Management Plan estimates that 50% of this pollution is from agriculture and 50% from sewage treatment works.
In the 1960s flood embankments were put in place to stop land flooding. We now know that these banks increase the rate at which water flows to flooding hotspots, and prevents flood waters depositing sediment.  The Rivers natural function, including silt deposition has been further limited by artificial straightening of the channel, as shown on the image below. This sediment pollution is smothering salmon and trout eggs, by preventing nutrient exchange.
Creating a Living Landscape
The potential of this once thriving River is why the Lower Lugg Valley has been selected as one of Herefordshire Wildlife Trusts Living Landscapes. This project aims to reduce phosphate and sediment pollution as well as creating connected habitats for wildlife to travel through. With support from the Environment Agency, in January 2015 Ecologists Charlie Long and Sophie Cowling surveyed the river Lugg, mapping river features, adjacent habitats and recording points of wildlife interest. Based on this survey work we brought our proposals for river restoration together in a draft Action Plan, and received further funding from the Environment Agency and Natural England for river restoration works.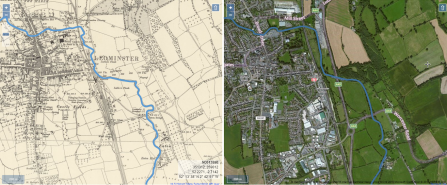 Working with landowners

As land managers, landowners are a key part of any living landscape, they are particularly important in the Lugg Living landscape as water from land in the catchment drains into the main River.

We have had an extremely positive response from landowners, and River restoration works continue to be conducted throughout the lower catchment. These works funded by the Environment Agency and Natural England include;

Fencing 4.4km of the River to keep livestock out of the river reducing bankside erosion and restoring bank side vegetation
Creating a 7500m2 back water, offline habitats for young fish, and invertebrates
Pollarding 20 willows and alder to prevent them splitting, and therefore prolong their life
Creating over 900m2 of ponds as habitat for wildlife and an alternative water source for livestock

In addition to these capital works we collaborated with Wye and Usk Foundation in a Wye Catchment Partnership project, funded by Department of Environment Food and Rural Affairs (DEFRA). This project provided free and confidential visits, in order to advise on actions to improve soil management to increase its water storage capacity, reduce loss of phosphate and sediment and reduce overland flow.

If you farm within the Lugg Living Landscape, and are interested in free and confidential farm advice please contact Lugg Living Landscape Project Officer, Sophie Cowling on 01432 356 872 or s.cowling@herefordshirewt.co.uk.

In the future we plan to extend our work with landowners of other gravel pits within the Living Landscape. We will advise on habitat management to further enhance the quality of wetland habitat in the floodplain, connecting habitats and so improving opportunities for species to move across the landscape.
Managing our nature reserves

Within the Lower Lugg Valley are the Lugg Meadows Sites of Special Scientific Interest (SSSI), nationally important floodplain meadows, managed by Herefordshire Wildlife Trust and Plantlife. Pollution such as nutrients, contained within the floodwaters that inundate the meadow are likely to have an impact on the meadows species diversity, as wildflowers prefer nutrient poor soils. In partnership with Floodplain Meadows Partnership (FMP) and Plantlife, we hope to analyse the composition of the silt that is being deposited.

Iconic Herefordshire beauty spot Bodenham Lake is also within the Lugg Valley. In 2016 Herefordshire Council, who own the site, have transferred the management responsibility of the nature reserve to the Herefordshire Wildlife Trust and New Leaf Sustainable Development Ltd. Partnership.

Bodenham Lake was formed by the extraction of gravel. The Lake is deep and steep sided, which prevents plants growing, limiting the available habitat for wildlife. We have developed a Lugg Wetland Gem project to enhance the biodiversity value of the Lake. This project has been supported by a grant from the Heritage Lottery Fund. Thanks to National Lottery players, we will be able to re-profile; make the banks of the lake a shallower gradient in order to allow aquatic plants to grow, and create habitat for wading birds to feed in. In some of the re-profile areas we hope to plant common reed (Phragmites) in order to establish a reedbed, a nationally scarce habitat which supports a wealth of wildlife.  
Engaging with the public

We want people to be at the heart of our conservation activities. As part of the Lugg Living Landscape project, we want people to learn about the wildlife of our nature reserves through improving and expanding our interpretation, signage, and events.

We plan to expand our school/Wild Play educational sessions to Bodenham Lake, including pond dipping and wetland habitat activities.

Local volunteers will be trained in surveying skills to enable them to survey, monitor and maintain Bodenham Lake. We will also train volunteers to survey the river bank in order to quantify the ecological gains of river restoration works.

If you are interested in getting involved in activities such as surveying, please contact Sophie on the details above.