About the Lower Lugg Valley
The River Lugg flows from its source in Powys through Presteigne and Leominster before merging with the River Wye at Mordiford, just outside of Hereford. The River Lugg supports a range of wildlife including otter, Atlantic salmon, brook lamprey, river lamprey and water crowfoot. The importance of the river for wildlife resulted in its designation as a Site of Specific Scientific Interest (SSSI), and a Special Area of Conservation (SAC) in its lower stretches.
Within the floodplain are the Lugg Meadows Sites of Special Scientific Interest (SSSI), nationally important floodplain meadows managed by Herefordshire Wildlife Trust, Plantlife and private landowners.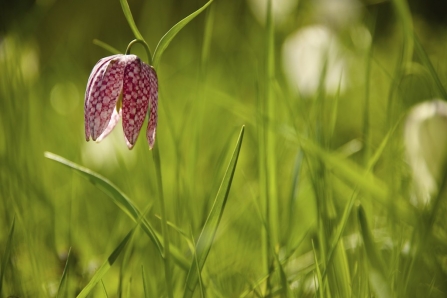 Snake's head fritillary on the Lugg Meadows Sites of Special Scientific Interest (SSSI) (Evan Bowen-Jones)
Over 20 Lakes formed by gravel extraction lie in the floodplain of the River Lugg, forming crucial stop off sites for migrating birds, resting sites for wildfowl and breeding otter. Bodenham Lake is one of the largest of the gravel pit lakes and has been managed by Herefordshire Wildlife Trust and New Leaf Sustainable Development since 2016.
Unfortunately, wildlife in the River Lugg is suffering from fragmented habitats and high levels of phosphate breaching thresholds set by the Water Framework Directive. High phosphate levels are causing eutrophication, a peak in algal blooms, which reduces the waters oxygen content. As of 2020, the failure of the River Lugg to reach its water quality targets means Herefordshire Council declared there is "limited scope for the approval of planning applications that give rise to additional damaging effects".
Creating a Living Landscape
The potential of this once thriving River is why the Lower Lugg Valley has been selected as one of Herefordshire Wildlife Trusts priority landscape scale projects, also known as a Living Landscape. Through work with private landowners and on our own nature reserves, this project aims to reduce phosphate and sediment pollution as well as creating connected habitats for wildlife to disperse through.
Species dispersal is vital for the conservation of declining species as it allows them to colonise new areas, find new food sources and maintain genetic diversity. The changing climate and an increase in extreme weather events, such as flooding, makes it ever more important for wildlife to be able to disperse to new areas.
Managing our nature reserves
Lugg Meadows, also known as Lugg Flats, are traditional floodplain meadows on the outskirts of Hereford City. In spring areas of Lugg Meadows are carpeted one of the UK's only wild populations of snake's head fritillaries. Other unusual species include nesting curlew, crow garlic and narrow-leaved water-dropwort.
As well as being a wildlife haven, Lugg Meadows plays an important role as a storage site for flood waters in winter months. The soils of Lugg Meadows are particularly important for carbon sequestration; they grow deeper after flooding, increasing carbon storage capacity and are occupied by a range of different wildflower root systems, maximising carbon capture. 
Further North in the Lugg Valley lies Bodenham Lake. Since taking over management of the Lake in 2016 (in partnership with New Leaf Sustainable Development Ltd.) the Trust has created over one hectare of reedbed, a nationally scarce habitat which supports a wealth of wildlife. In 2020 we will complete work to create islands for ground nesting birds, wading birds and a bank suitable for sand martin and kingfisher to nest on. 
Works to improve Bodenham Lake for Wildlife were primarily funded by the European Regional Development Fund as part of the Delivering the Nutrient Management Plan project, the National Lottery Heritage Fund through the Lugg Wetland Gem project and through kind donations to the re-wildling Bodenham Lake appeal.
In 2020 the Trust purchased Oak Tree Farm, a 31-acre farm to the West of Bodenham Lake, which provides a unique opportunity for creation of a wetland "steppingstone" between gravel pit lakes, through creation of a series of pools, scrapes and areas of reedbed. We will restore the agricultural grassland of Oak Tree Farm to traditional, more species rich floodplain grassland.
Read more about our appeal to purchase Oak Tree Farm
Working with landowners
As land managers, landowners are a key part of any living landscape, they are particularly important in the Lugg Living landscape, as water from land in the catchment drains into the main River.
Since 2015 we have administered farm grants funded by the Environment Agency and Natural England, to connect habitats and reduce diffuse pollution. We have had an extremely positive response from landowners, and river restoration works continue to be conducted throughout the lower catchment. These works include;
Fencing the river and providing alternative water sources for livestock, keeping them out of the river, reducing bankside erosion and restoring bank side vegetation
Spreading wildflower seed to enhance wildflower diversity within grasslands
Pollarding willows and alder to prevent them splitting, and therefore prolong their life
Creating ponds as habitat for wildlife and an alternative water source for livestock
Following a successful grant application to Defra's Water Environment Grant (WEG) Herefordshire Wildlife Trust are hosting a new catchment advisor Claire Spicer, who is working with farmers to create Farm Environment Plans and introduce measures to improve the aquatic environment. This work complements the work we have already been doing with landowners in the Lugg Living Landscape and forms part of a wider Restoring Our Amazing River project, with partners the Wye and Usk Foundation the Wye Valley AONB.
The WEG grant will also fund trial releases of a rust fungus that attacks Himalayan balsam.  The rust fungus can suppress the vigour of Himalayan Balsam allowing other native species to compete and has been trialled at multiple sites across the UK over the past few years. Trials will be carried out at two locations and their effectiveness monitored over the coming years.
If you farm within the Lugg Living Landscape and are interested in free and confidential farm advice please contact Catchment Advisor, Claire Spicer on 01432 356 872 or c.spicer@herefordshirewt.co.uk.
Engaging with the public
We want people to be at the heart of our conservation activities. As part of the Lugg Living Landscape project, we want people to learn about the wildlife of our nature reserves through improving and expanding our interpretation, signage, and events.
The Trust's WildPlay team have run education sessions with nearly 600 children since we have taken over management of Bodenham Lake. We have also produced a resource pack for schools, enabling them to run pond dipping sessions linking in with the national curriculum.
Over 100 volunteers are involved in at Bodenham Lake, with many receiving training on species identification and habitat management.
Please see the event section of our website for more information on upcoming events in the Lugg Valley.