Restoration project at Herefordshire nature reserve wins national award
The Herefordshire Wildlife Trust's project to transform Bodenham Lake from an ex-gravel pit to a thriving nature reserve has won a national project for work on the natural environment.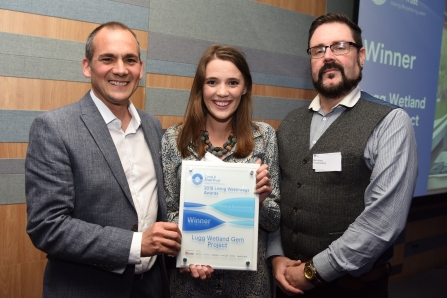 The Lugg Wetland Gem project has moved nearly 30,000 tonnes of soil, to create 1 hectare of warm shallow waters, in the otherwise steep sided ex-gravel pit lake. The Herefordshire Wildlife Trust volunteers have planted over 1,000 reed plants in these shallow waters which will form one of the UK's rarest habitats; reedbed.
The project at Bodenham Lake has won the Canal and Rivers Trust Living Waterways Award, for the reedbed creation work. Sue Wilkinson from the Canal & River Trust explains: "Canal & River Trust is delighted to recognise the tremendous work that The Herefordshire Wildlife Trust is doing through its Lugg Wetland Gem project. Our national Living Waterways Awards provide the opportunity to celebrate the tireless efforts of those who are helping to transform the nation's rivers, canals and lakes."
By creating 1 hectare of reedbed the Trust hopes to boost numbers of birds, grass snakes, dragonflies, toads and many more species at Bodenham Lake. The new bird hide installed on the Southern shore will allow the public to enjoy all the wildlife that the shallows and reedbed attracts.
The project officer Sophie Cowling said, "We are delighted to have won this prestigious award for our work at Bodenham Lake, we couldn't have won it without the tremendous work of the project volunteers!"
This community reedbed creation project is primarily funded by The National Lottery Heritage Fund and European Regional Development Fund (ERDF).