Herefordshire Wildlife Trust launches new programme to help connect people to nature thanks to National Lottery Funding
The 'Nature, Nurture, Nourish' project aims to improve people's wellbeing through engaging with the natural world with courses, workshops and volunteering opportunities on offer.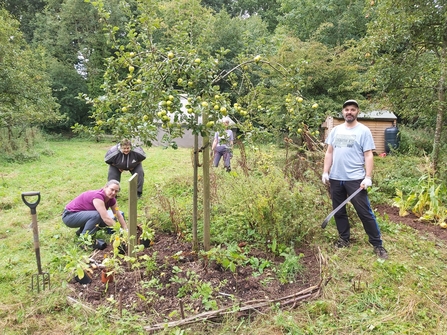 The funding will allow the Trust to employ a part-time Volunteer Coordinator as well as an Intervention & Resilience Officer, experienced in working in mental health to work with volunteers who require additional support. Around 300 people currently volunteer with Herefordshire Wildlife Trust in a wide range of roles from practical habitat management on nature reserves to helping in their shops and offices. The new funding from The National Lottery Community Fund, which distributes money raised by National Lottery players for good causes and is the largest community funder in the UK, will mean all volunteers will be able to receive a greater level of support and training from staff at the Trust and more volunteering opportunities will be made available.
Another strand of the project, which has been funded by the European Social Fund through the Landau Community Grant, includes a variety of courses and workshops designed to improve participants well-being. Places are available now for the first two courses:  Notice in Nature: an eight-week online course promoting ways to well-being by connecting with the wildlife on your doorstep and Garden Gateway: a weekly, wildlife-friendly gardening project offering eco-therapy support in small groups. These courses aim to engage with often hard to reach groups: those who are isolated, with poor mental health and low confidence and hope to build skills and improve the confidence and physical and mental well-being of the participants.
Herefordshire Wildlife Trust's Engagement Manager, Katrina Preston said: "It is well recognised that spending time outdoors, in nature, is really good for you. We have run a number of programmes in the past at Herefordshire Wildlife Trust which link practical conservation and  time in nature to improved wellbeing and but this funding has allowed us to create a project which brings all our experience together to embed this philosophy into everything we do."
Anyone wanting to know more about the project or who is interested in participating should contact Katrina Preston at k.preston@herefordshirewt.co.uk or go to the website to find out more: www.herefordshirewt.org/NatureNurtureNourish