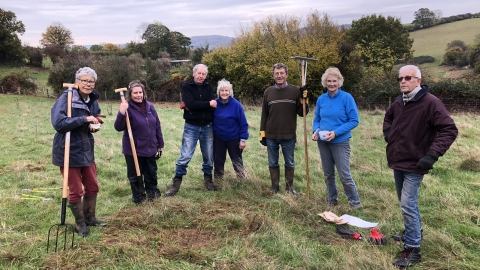 Herefordshire Wildlife Trust took ownership of this grassland reserve in 2019 and are restoring it as a mixture of meadow, hedgerow and scrub habitat.
Know before you go
Entry fee
free
Parking information
There is parking for a few cars at a time just inside the entrance gate
Grazing animals
This nature reserve is seasonally grazed.
Access
Access is currently limited to public rights of way
When to visit
Opening times
Dawn to Dusk
Best time to visit
Spring- early summer
About the reserve
Herefordshire Wildlife Trust are pleased to confirm that they have now taken ownership of Tretawdy Farm, Llangrove. Tretawdy Farm was left to the Trust as a legacy from Mrs Eileen Cook.
The Trust intend to manage the farm land as a habitat for wildlife in keeping with the ethos of the legacy of Mrs Cook. Some of the land will be cut for hay and grazed while other parts will be left to grow as wild as possible, with long grass and scrub being encouraged. The Trust is planning to consult with the local residents when drawing up plans for the future of the farm.  There will be various volunteer opportunities and chances to get involved with this site.  If you are keen to help out at this valuable local nature reserve, please contact us: enquiries@herefordshirewt.co.uk