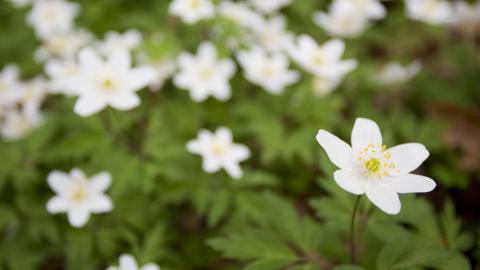 Semi-improved grassland with various botanical species present
Know before you go
Grazing animals
The reserve is often grazed during the winter
Walking trails
The wood lies on a slope and there are, as yet, no marked paths so movement within the wood is not easy. Please keep to the edge of the meadow during the summer hay growth period.
Access
Please contact us regarding wheelchair accessibility. 
When to visit
Opening times
Open at all times
Best time to visit
Spring and Summer
About the reserve
The meadow consists of semi-improved grassland. The herbaceous flora is generally impoverished but future management aims to restore this situation. The woodland area of the reserve forms part of the much larger Chase Wood. There has been little human intervention here in the last fifty years. The whole area has been coppiced in the past and there are some impressive Sweet Chestnut stools, supporting up to eight well-grown trunks. One or two small Yews and Crab apples are also found. Bluebells, Wood Anemones, Dog's Mercury and various ferns are present in the field layer and indicate that this wood has had ancient origins. There is a small overgrown quarry within the wood, which supplied stone for the original nineteenth century house and garden walls.  
Contact us
Herefordshire Wildlife Trust