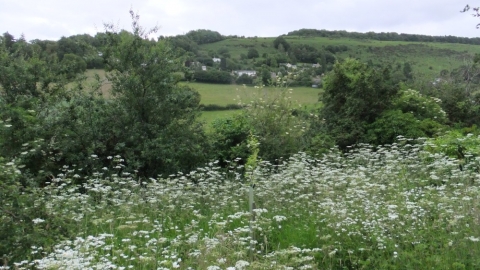 Situated on a steep slope with attractive fruit trees
Know before you go
Walking trails
The reserve lies on a steep slope but access around it is straight forward. Visitors are asked to close the gate when departing
Access
There is no wheelchair access at this reserve.
When to visit
Opening times
Open at all times
Best time to visit
All year round
About the reserve
The site is on a steep, sheltered slope, facing south-east. It had clearly been an orchard for some time, as there are some large old apple trees present. Several quite old box trees along the south-east boundary may also have been introduced. The central area has been planted with a number of standard cider apples and perry pears of traditional varieties. An old stone barn forms an attractive feature in the centre of the orchard and this is now a bat roost. Thickets of raspberries and bramble provide nectar and pollen over a long period in summer for a variety of pollinating insects.
The old barn within the orchard was recently restored to provide a bat roost.
Pool Ellocks is cared for by the Community of Goodrich who host cider and perry makers, apple juicing and blossom days involving cider and perry tasting. You can find out more about the management of the site and events taking place here: https://poolellocks.wordpress.com/
Contact us
Herefordshire Wildlife Trust