This reserve holds a rich flora that has regenerated on the site of old quarry workings and a number of small caves that provide a refuge for Horseshoe Bats and special invertebrates such as the Cave Spider and hibernating Herald Moths.


Location
Know before you go
Parking information
There is a small pull-in are at the top of the reserve with space for three or four cars.
Grazing animals
None
Walking trails
The reserve consists of a strip of land on either side of a public footpath leading down to a former limestone quarry and a natural rock face ending at King Arthur's Cave. Access is straightforward, and the main track leads on beyond the reserve into woodland managed by the Forestry England which links with both the Wye Valley Walk and other footpaths within Lord's Wood.
Access
There are no surfaced paths and no wheelchair access at this reserve.
When to visit
Opening times
Dawn to dusk
Best time to visit
All year round
About the reserve
The reserve forms part of the Upper Wye Gorge SSSI, designated in 1989 and lies on either side of the track leading to King Arthur's Cave. The strip to the northwest of the track is part of an ancient woodland. The part of the reserve to the east of the track has a different history, with a cottage standing here in 1847; however the area became an industrial site in the middle of the 20th century. This has now become colonised by willow and birch. 
There is a good range of woodland plants present, including  some scarcer species such as yellow birds-nest, fingered sedge, broad-leaved helleborine and other orchids. Tree shading of rock exposures enabled colonisation by shade-loving ferns, like hart's tongue, black spleenwort, and a very local variety of maidenhair spleenwort. The whole site is rich in bryophytes including several nationally scarce species.
King Arthur's Cave is part of The Doward Living Landscape - click here for more information.
Environmental designation
Site of Special Scientific Interest (SSSI)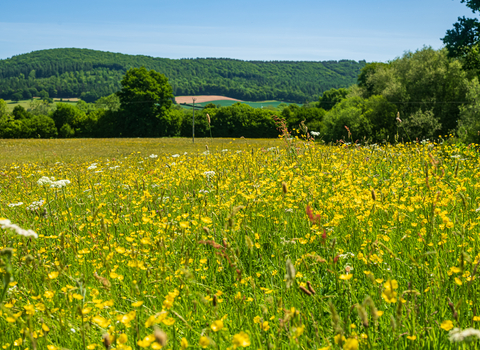 Join today and receive a free Nature Reserves guide
When you join us as a member of Herefordshire Wildlife Trust you will receive our Herefordshire Nature Reserves Guide with full details of all our nature reserves including maps and species of interest.
Join today!