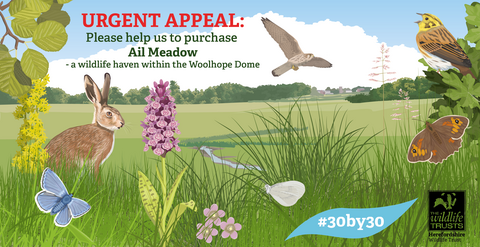 Ail Meadow
A lowland pasture covering just over 14 acres, Ail Meadow lies within the wonderful, wildlife-rich landscape of the Woolhope Dome, very close to our own Wessington Pasture Nature Reserve. Though already rich in many species of wildflower, it has the potential to be so much better though changing how the site is managed. With your help, we plan to purchase the site and restore it as a hay meadow, with seasonal grazing, to enhance the sward and attract a wealth of wildlife. 
Allowing the meadow to be sold on the open market risks it being lost to unsympathetic management, improvement or intensification. Purchasing the site will ensure it remains protected for wildlife for the future.
We need to raise £200,000 to purchase this beautiful wildlife meadow.
Current total: £84,030.44
A Network for Nature: the Woolhope Dome
Ail Meadow is perfectly placed to provide a wonderful habitat for wildlife: close to a number of nature reserves and sympathetically managed meadows, woodlands and orchards. This helps to create a network for nature – where species can move through a 'friendly' landscape easily to find food, shelter and mates. 
"More, bigger, better and better joined". This phrase coined in the Lawton Review of 2010 is the guiding philosophy behind making nature reserves the best they can be for providing for wildlife. We're putting this into practice with our plan to buy Ail Meadow, joining the dots to make a wildlife-friendly landscape.
The map below shows where Ail Meadow sits in the landscape with several of our other Nature Reserves close by.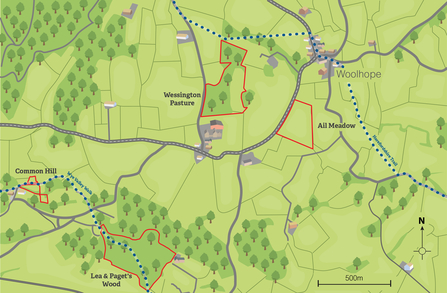 Key Species found at Ail Meadow
Many important species of plant and wildflower are already found at Ail Meadow and our management will see these flourish. Some areas of the meadow are damp fen grassland, home to quite different grasses and flowers than the drier areas. Bog pimpernel is one of the rare plants to make its home in the wet areas of the meadow; others include sneezewort and flixweed.
The meadow is also a haven for invertebrates such as the wood white butterfly. This delicate little butterfly is now extinct in many counties but has a stronghold in the area - we can manage Ail Meadow to help boost its numbers! Small mammals will find shelter and food in the thick native hedgerows which will be also be bustling with small birds such as blackcaps and yellowhammer.
Please donate today
Help us to create a beautiful new nature reserve at Ail Meadow
Views of the meadow last winter, 2020/21
'30 by 30'
This appeal and land purchase will contribute to The Wildlife Trust's target of '30 by 30': restoring and protecting at least 30% of land and sea for wildlife by 2030.