What makes a Wilder farm?
Agricultural land covers a large percentage of Herefordshire and the way this land is managed can affect whether wildlife thrives on farmland. Many of our most beloved wildlife has evolved to thrive on farmland, but sometime modern agricultural practices can harm this very same wildlife. 
How land is farmed can impact not just the wildlife on farms but also to quality of nearby waterways and the ability of the soil to retain carbon. Across Herefordshire farmers are working to adapt their practices to ensure that wildlife can thrive on their land and to help maximise the potential for that land to help combat climate change.
Scroll down to read how one Herefordshire farmer is managing to do exactly this.
The Wilder farms map is helping to show where there are farms and land supporting wildlife across Herefordshire. Click on the link below to add your farm to the map and tell us a bit about what you are doing for nature on your land.
Please enable javascript in your browser to see the map.
Hear what local farmer, Tony Norman, has been doing on his farm
The Leen is a 400-acre dairy farm, situated on the River Arrow near Pembridge. It is at the heart of an intensive farming business, involving several more farms, a 600-cow dairy with around 300 followers, a Hereford herd, a large chicken unit and an Anaerobic Digester that utilises their waste. Few pesticides and no artificial fertilizer are used.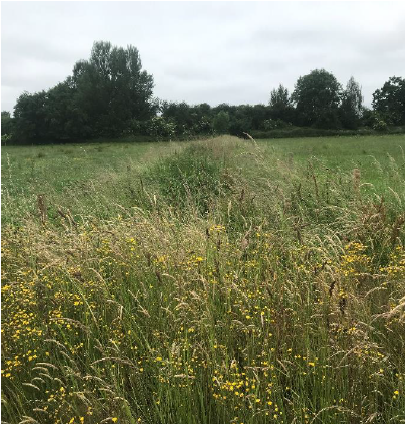 The farm now has over 15% of its area devoted to different habitats and we make a concerted effort to increase the organic matter in the soils throughout the farm. 1,800 metres of the River Arrow lie within the farm as well as over two kilometres of stream and ditch. All waterways have been fenced to leave a healthy riparian zone and to help 'slow the flow' and reduce flooding downstream. The major 'wildlife corridor' is the river but the disused Kington/Leominster rail-line and the Ancient Monument known as 'Rowe Ditch' also provide a key corridor for wildlife's movement across the farm. Six ponds have been dug over the last 40 years.
There are over 17 km of hedgerows with another 2 km planned. Over the years a comprehensive system of 10 different hedgerow management styles has been used - including planting new hedges, different cutting regimes, laying and leaving a line of trees. Over the years, over 1,000 trees and shrubs have been planted whilst care is taken to maintain the veteran and ancient trees that are scattered around the farm. Rare native black poplars and disease resistant elms have been planted as well as many other species.
There is a Site of Special Scientific Interest (SSSI) on part of the farm that has over 200 species of plants. This area has been expanded by sowing wildflower meadows. The farm's milking cows graze the species-rich pastures. The cows spend most of the year grazing, and if left in the same pasture for an extended period they can affect both the health of the soil and the ability of the plants to regrow. To manage this, we graze most pastures for a day and then rest them for up to 60 days before allowing them to be grazed again. Grazing a pasture for a limited time period means only a certain amount of the plants are grazed, many of the others are trampled into the ground replenishing the nutrients in the soil. Allowing a pasture to rest for an extended period allows the plants in the pasture to regrow adequately before they are grazed again.
The farm is very conscious of its Carbon Footprint and strives to achieve net zero. There is a comprehensive set of Public Footpaths around the farm with some notice boards. Open Farm Days and school visits are often held. Barn owls regularly use the boxes erected for them and up to seven different otters have been filmed on wildlife cameras located around the farm.