ROAR: Restoring Our Amazing River
The outlook for the River and Wye and Lugg has recently improved thanks to a new project called ROAR (Restoring Our Amazing River).  Following a successful grant application to Defra's Water Environment Grant (WEG) five new Catchment Advisers will be employed and hosted by the project ROAR partners which include the Wye and Usk Foundation the Wye Valley AONB and Herefordshire Wildlife Trust.  The project focusses on some of the 'problem' waterbodies in the County specifically the Garren and Gamber brooks, the Lugg and the Arrow, and seeks to improve water quality, riparian habitats and control invasive species.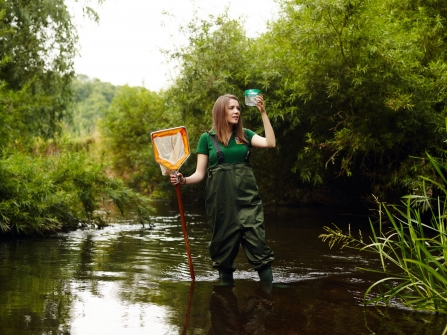 Herefordshire Wildlife Trust will host one of the new catchment advisors who will focus on the Lugg catchment and work with farmers to create Farm Environment Plans and introduce measures to improve the aquatic environment. This will complement the good work we have already been doing with landowners in the Lugg Living Landscape over the past four years through support from the Environment Agency and Natural England.  The Lugg suffers from high levels of phosphate and is breaching levels set by the Water Framework Directive.  Approximately half of this phosphate is thought to come from agriculture because of soil erosion, run-off from fields and yards and cattle accessing the river.  A lot of these problems can be addressed quite simply through fencing and 'buffering' water courses, providing alternative drinking water for stock and managing water within farmyards.
The grant will also fund trial releases of a rust fungus that attacks Himalayan Balsam.  The rust fungus can suppress the vigour of Himalayan Balsam allowing other native species to compete and has been trialled at multiple sites across the UK over the past few years. Trials will be carried out at two locations and their effectiveness monitored over the coming years.
Recruitment of the Catchment Officers has already taken place and Claire Spicer is in post with the Wye and Usk Foundtation, seconded to Herefordshire Wildlife Trust.  Currently funding for the project will continue until March 2021.
For further information please contact Andrew Nixon, Conservation Senior Manager, a.nixon@herefordshirewt.co.uk