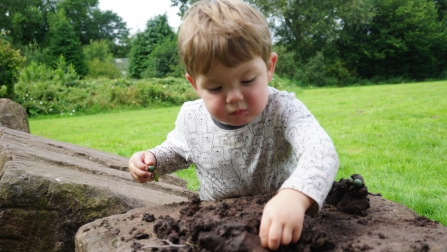 Nature Tots weekly sessions are open to all children aged 5 and under and run throughout term times, every Tuesday at Queenswood Country Park & Arboretum. As well as being great fun, Nature Tots sessions support children's development in speech and language, motor skills, and social and emotional skills. It also introduces simple practical skills, such cooking on a campfire, tying knots and incorporating natural materials into activities such as craft and cooking. The sessions also help to foster a love and appreciation for local wildlife – in both the children and the parents!
How to Book

You will need to book in advance for each session as places are limited. Each session is listed individually on our 'What's On' pages and you can book directly through the website.

If you wish to block book for 6 weeks (10% discount) please contact Katrina Preston directly on 01432 530088 / k.preston@herefordshirewt.co.uk

The cost is £6 for the first child and £4 for additional children. The price includes parking - you will be given a car parking pass by your session leader on arrival. 
About Nature Tots

Project Green Child, begun in 2017 by Herefordshire Wildlife Trust, initially ran Nature Tots sessions at Queenswood for just a limited number of families from Leominster. These sessions were funded by Leominster Community Connect fund and the Pippin Trust. The aim for this group was to provide access and support to toddlers and their parents who might otherwise struggle to get outside and engage with nature and was to specifically work with under 5-s with delayed development, working in partnership with Leominster Children's Centre.

In 2018, the Pippin Trust have also announced that they will continue to fund transport to Queenswood for some of the families originally supported by the scheme for a further year.

Project co-ordinator Katrina Preston commented: "These sessions are such a joy to lead. We have seen a notable improvement in children's development for those children regularly attending sessions, and, most importantly, they have a great time playing outdoors and engaging with nature. It can be hard work for parents to plan outdoor experiences into their days but coming to these sessions makes it that bit easier – we hope it will continue to inspire them to find time to play outside and learn about nature as a family outside of the sessions too. Parents attending the group are building up support networks, encouraging each other to meet up outside of the group to go on nature walks or to meet at the local park for more outdoor play time."