The Greener Generation appeal ran from September 2019 to February 2020 with an aim to raise £5,000 for our education team to deliver environmental educational activities across the county, because children are disconnected to wildlife more than ever. We want to reach all audiences, from those already enthused and passionate about wildlife, to those that need inspiring and encouragement to get outdoors and engage with nature.
Many thanks to all those who supported this appeal, helping us to raise a fantastic £3,894.51!
Thanks to this funding, we have programmed seven childrens activity days to take place throughout 2020 at nature reserves across the county. Have a look for the 'Greener Generation' events in our calendar: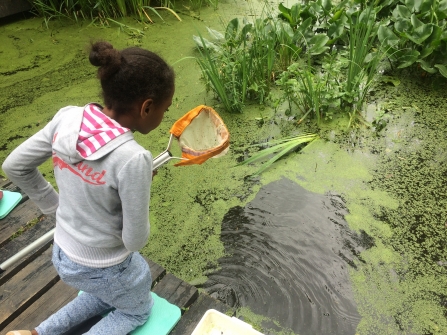 Recent national studies found the average child spends 4 hours a week outdoors (this is not even in wild spaces!). Nature deficit disorder is on the rise, as is mental health issues and obesity. Children need positive experiences and opportunities to discover wildlife. Currently we have 5226 Herefordshire Wildlife Trust members, of this less than 7% (350) are children and young people under the age of 16.
"No one will protect what they don't care about; and no one will care about what they have never experienced." Sir David Attenborough
Pictures in books do not replace hands on experience. Wildlife knowledge is being lost, like retelling of folktales if we don't keep repeating the messages clearly and consistently the message will be lost. This is something the Wildlife Trusts are uniquely able to do, across the country we are all shouting the same messages with 250,000 children nationally being reached each year.
 'For a new generation, nature is more abstraction than reality. Increasingly, nature is something to watch, to consume, to wear – to ignore.' Richard Louv, Last Child in the Woods.
Climate change is a hot topic for children and young people, with thousands of pupils going on strike across the country inspired by Greta Thungberg. We have a new generation of contentious activists, campaigning to reduce single use plastic, fighting for lower carbon admissions, protesting fiercely for a cleaner planet. I wonder if they know what wildlife they are fighting for? I don't mean the orangutans, rhinos, whales and elephants but what of the local wildlife of Herefordshire? How many Young people (or adults) do you know that can tell the difference between; Canada geese verses greylag, grass snakes verses adders, English bluebells verses Spanish bluebells, a white-clawed crayfish and an American signal crayfish. The future guardians of wildlife need our support and encouragement.
Children spend so little time outdoors that they are unfamiliar with some of our commonest wild creatures. According to a 2008 National Trust survey, one in three could not identify a magpie; half could not tell the difference between a bee and a wasp; yet nine out of ten could recognise a Dalek. (National Trust (2008) Wildlife alien to indoor children.)
Herefordshire Wildlife Trust work with around 3000 children every year, in schools, in local parks, community groups and other organisations. So why do we need your support if we are reaching all of these children? Our biggest barrier as an education department; is not meeting the young people of Herefordshire, but engaging families and young people on wildlife rich reserves where they will be able to see in person some of the spectacular species of plants, amphibians, reptiles and pollinators of our unique and special county. These kinds of events are hard to gain funding for, are often exclusive to those already interested in our native wildlife or they are funded by projects focusing on one topic with a particular group of beneficiaries in mind. While what we are talking about is not a new idea or concept, it is one that is increasingly under supported. We want to reach out to the whole community of children in Herefordshire and get them shouting about Wildlife and our work too!