Nature is good for you!
Getting outside and helping nature can help you too! Spending time in green spaces, volunteering and taking part in workshops and events can be great for your mental and physical wellbeing too. Find out how you can channel some wild wellbeing!
Ways to Get Involved
Below you will find chances for supported volunteering and opportunities to help you take notice in the nature around you. Nature can offer comfort, distraction and inspiration particularly during the difficult times we living through.
Wellbeing in Nature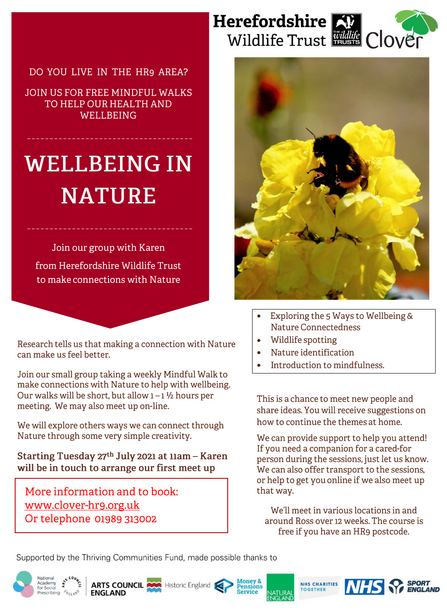 Garden Gateway
Our Forest Garden at Queenswood Country Park & Arboretum is tended by volunteers of all abilities, following principles of permaculture, sustainability and wildlife friendly gardening.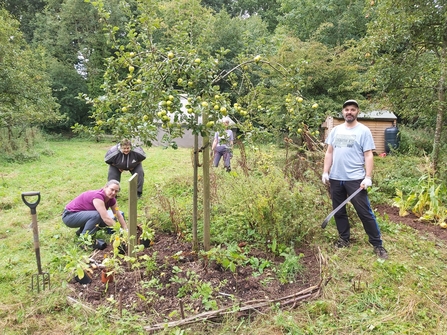 Take Notice in Nature
Throughout the pandemic, we have offered an online 'Wellbeing in Nature' group – accessed via Zoom. Courses run with a weekly session for five weeks . Whether you're stuck at home because you're shielding, not getting out because of the weather or just bored with not being able to go anywhere – this is for you!  
Please note that this course is only available to our members and volunteers.
Karen will inspire you to understand how connecting with Nature can help you to cope in these difficult times, by exploring the 5 Ways to Wellbeing.  She will introduce ways that Nature can help you to feel better, what to look out for on your walks or through your window, plus a Plant of the Week and a mindfulness exercise.  There will also be chance for the group to share ideas and you will receive a small package in between sessions with suggestions on how to continue the themes throughout the week. 
If you are interested in participating, please contact Karen directly at: k.roberts@queenswoodandbodenhamlake.org 
Building Better Opportunities
This scheme offers various training opportunities including in orchard management and apple juice production, Playwork training to develop the skills to work with young people, wildlife conservation management and retail training in the organisation's two shops. The training is delivered through six-week placements and each person enrolled will have a dedicated mentor who will assess and support their progress through the course.
Places are available to people of all ages who are unemployed or economically inactive and especially  those with mental or physical disabilities, diverse ethnicities, migrants, the over 50s, ex-offenders, the homeless and the long-term unemployed.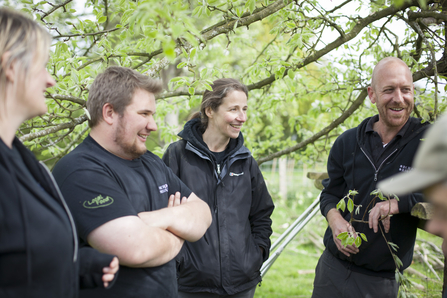 Five Ways to Wellbeing
As part of our Nature, Nurture, Nourish project, our Outdoor Wellbeing Officer Karen Roberts is producing short videos on the Five Ways to Wellbeing.
The Five Ways to Wellbeing #1: Take Notice
A reminder to slow down, step outside and take in nature using all our senses!
The Five Ways to Wellbeing #2: Be Active
The Five Ways to Wellbeing #3: Learn, Be Curious
The Five Ways to Wellbeing #4: Connect
Karen looks at ways to connect with others, with ourselves and with the world around us.
The Five Ways to Wellbeing #5: Give