Fundraising Appeal: Rewilding Bodenham Lake
Please help us to secure funding to re-wild Herefordshire's largest water body, Bodenham Lake Nature Reserve. 
About Bodenham Lake and the project so far...
Lying in the heart of the Lugg Valley, Bodenham Lake is over 50 acres of open water interspersed with five islands. Bodenham Lake was formed by gravel extraction, resulting in a steep sided and extremely deep lake (up to 8m deep). The lake lacks shallow, warm waters in which aquatic plants grow, resulting in a shortage of food and shelter for wildlife.
In 2018 we conducted re-profile works, to shallow the lake margin, creating over one hectare of shallow waters. This May we will plant reed plants to create one of the UK's rarest habitats, reedbed.  
The next stage of the project - transforming the lake's islands
We are now planning to extend our habitat improvement works to three of the lake's islands.
We have been awarded £84,164 of European Regional Development Funding towards this and have raised the initial £5,000 for which we appealed, to undertake further reprofiling work on the islands within the lake. We have now stretched our fundraising target to £8,000 to achieve as much as possible for wildlife!
The first stage of the works will be to remove trees from the islands to allow earth works to take place. The islands have not been managed since they were formed in the 1980s resulting in dense cover of willow and alder and sparse ground cover for nesting birds and otter. The plans for islands are as follows:
Island 1: Win spoil from the bottom section of the island and add it to the old road that runs underwater to create shallow waters suitable for aquatic plants and wading birds.
Island 2: Create three islands of a larger surface area. Two of these islands will be below the water level to allow reedbed to establish. The remaining island will be allowed to scrub up, to provide cover for otter.
Island 3: A trench will be dug through the centre of the island to win spoil to create three islands with a larger surface area. These islands will be capped with gravel to create habitat suitable for ground nesting birds. Island 3 is in front of the new bird hide. 
Please help us to reach our £8,000 target!
Appeal: Rewildling Bodenham Lake
What are the benefits to wildlife?
Islands are vital for nesting birds, as they provide increased levels of protection from land-based predators, improving survival of chicks. Bodenham Lake has five islands equating to 1.75 hectares, providing fantastic potential to conserve species such as oystercatcher and snipe (which are are on the RSPB Amber list as they have experienced a moderate decline of 25-50% in UK breeding population over last 25 years).
Since gravel extraction finished in the 1980's there has been little ecological management of the islands, allowing them to form immature woodland which is suitable for very few ground nesting bird species; they require good visibility to spot aerial and aquatic predators approaching the nest.
The aim of the re-profiling work is to increase habitat diversity, to support a wider range of species. Removing trees from two and a half out of the five islands will encourage birds such as little ringed plover, oystercatcher, lapwing and snipe to nest, helping to conserve these species. Research by the RSPB has shown that several small islands will hold more nesting birds than a single island of the same total area, so we plan to transform three islands into eight.  
The remaining two and a half islands will remain unchanged to support populations such as herons, cormorants and greylag geese.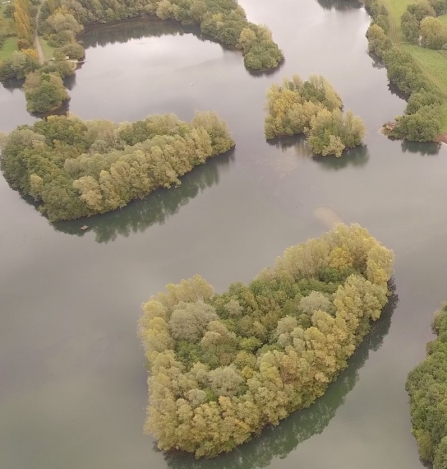 The islands in the lake have become completely tree-covered, making them poor habitat for many species.
* This appeal closes on 31st August 2019. Any donations received after the target of £5,000 is reached will be spent on other habitat management or visitor infrastructure works by Herefordshire Wildlife Trust at Bodenham Lake Nature Reserve.
Appeal: Rewildling Bodenham Lake